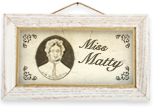 Miss Matty has been used throughout our site to symbolise tradition and value for money.
She was a well loved fictional character in the novel Cranford written by the famous Victorian authoress Elizabeth Gaskell who lived in Knutsford at the beginning of the 1800s.
When Wares of Knutsford hardware shop began in 1992 a book was placed on the counter and customers were asked what they would like to buy. As we know small retail businesses are struggling to survive and traditional hardware shops are disappearing along with many of the every day items that have been part of households for decades. Obviously the art of preserving is a very traditional skill and now coming back as a popular part of our kitchen scene. Our basic ranges still very much have traditional items in mind especially in our household and pottery categories and in kitchenwares we have a category dedicated to traditional items.
The Miss Matty character symbol and product descriptions are there to give an extra pointer to the attributes of the item or how the item can be used in various ways. In other words she is there to be helpful and hopefully raise a smile!