Blackberries are in season now, so get harvesting from your hedgerow - it's free, it's healthy and it's great fun! The only difficulty is not to eat all the blackberries as you pick them! There are so many things you can do with blackberries apart from jam, such as these delicious desserts.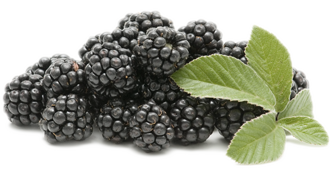 Blackberry crumble cake recipe
This blackberry recipe is rich and indulgent - pure comfort food - but quite simple to achieve.
Ingredients for the base:
120g butter
120g sugar
2 eggs
120g self raising flour
200g blackberries
For the crumble:
100g flour
50g butter, diced
50g sugar
Preheat the oven to 180C and grease and line a 500g loaf tin. Put the butter and sugar in a mixing bowl and beat until pale and fluffy. Add the eggs slowly, beating as you go. Fold in the self raising flour gently then pour the mixture into the prepared loaf, spreading it evenly into the corners. Put the blackberries on top.
Make the crumble by rubbing the plain flour and butter together with your fingertips until the mixture resembles breadcrumbs, then stir in the sugar. Top the blackberry cake mixture with the crumble and bake for about 45 minutes, until the top is golden and bubbling. Leave to cool for a while then turn out. Serve with cream, ice-cream or custard.
Spiced plum and blackberry crumble recipe
While apple is a common addition to a blackberry crumble recipe, spiced plum adds a delicately sophisticated note to the robust flavour of the blackberries.
For the crumble:
140g plan flour
140g butter, diced
85g soft light brown sugar
50g porridge oats
For the fruit:
14-15 ripe plums, halved and stoned
300g blackberries
1 tablespoon soft light brown sugar
1 tablespoon plain flour
2 star anise
1 teaspoon ground cinnamon
1 teaspoon vanilla extract
Juice of half a lemon
Preheat the oven to 200C.
Make the crumble by rubbing the butter and flour together to resemble breadcrumbs, then stirring in the sugar and oats.
To make the spiced plums, add all the ingredients apart from the blackberries to a large oven dish with 50ml of water. Cover the dish with foil and bake for 50-60 minutes. Remove from the oven, take away the foil and the star anise and stir in the blackberries. Add the crumble topping and bake for another 30 minutes, until the top is bubbling and golden. Serve piping hot with cream, ice-cream or custard.