Broad beans are a delicious bean that can be eaten in a variety of ways.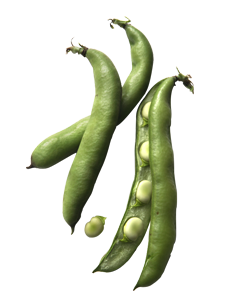 Although they are very tasty when freshly picked, their short season means they are often frozen so they can also be enjoyed throughout the year. Baby broad beans have a sweet fresh flavour that requires minimal cooking but larger ones can be a little floury and require a bit more attention. Try one of these recipes to really make the most of this tasty summer treat.
Hot broad bean recipes
Broad beans with pancetta and shallots is delicious served alongside pork chops or fish. Defrost and pod frozen broad bean, or blanch fresh ones until tender before removing the skins. Finely chop some shallots and pancetta and fry in olive oil until the onions are soft and the pancetta golden brown. Add the beans, season and cook through until warm. For a broad bean recipe with a bit of bite, try combining broad beans with spiced rice. Fry chopped onion and chorizo until the paprika-flavoured oil coats the base of the pan. Add handfuls of paella or risotto rice and top up with chicken or vegetable stock. Cook until the rice is soft, adding more stock as necessary. Add defrosted or blanched broad beans and stir until all the flavours are combined.
Cold broad bean recipes
Broad beans make great summer salads and work well with a variety of ingredients. A bean, courgette and mint salad is a lovely accompaniment to meat or fish, or can be served with crusty bread as a light lunch. Griddle or fry strips of courgette in olive oil until slightly charred, then leave to cool. Cook the broad beans in boiling water until tender, also adding in some French beans if desired. Drain and add to the cooled courgette. Drizzle the vegetables with olive oil and lemon juice, season with salt and pepper and finally add a large handful of finely chopped mint. Serve at room temperature. Broad beans can also make a delicious bruschetta topping. Blitz cooked, podded beans with a little olive oil and lemon and one clove of garlic. Add fresh herbs such as basil or mint and a handful of grated fresh parmesan if liked. Spread the mixture over toasted slices of crusty bread as a snack or light starter.
Trying a new broad bean recipe is a great way to enjoy this healthy and delicious summer vegetable.