Blackberry Wine Recipe
Nature's bounty is in full flow at the moment, the hedgerows drooping with shiny, plump blackberries. You can ma
ke the blackberry season last until winter with jams and cordials, for example, or you could try blackberry wine for a more sophisticated, adult alternative.
How to make blackberry wine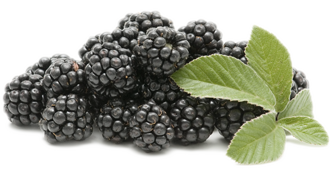 Ingredients:
780g fresh blackberries
5 litres boiling water
350g sugar
1 gram yeast
Method:
Tumble the blackberries around gently in a clean tea towel to remove any surface dirt and dust, but don't wash them. Place the fruit in a bucket or large bow and cover with five litres of boiling water. Place a clean cloth over the bucket and allow the blackberry mixture to sit for three days, stirring two or three times every day.
Place the sugar in a large bowl and strain the blackberry water onto it through a clean muslin cloth or through a fine strainer. Stir until the sugar has dissolved. Set aside for 30 minutes then add the yeast and cover the bowl with a close fitting lid. Allow to stand for six days then strain the mixture into a demijohn. If you prefer a sweeter wine you can add 150g raisins at this point. Cork the demijohn and leave in a warm spot to ferment - about six months. The resulting brew should bring some delicious warmth to a cold day.
How to make blackberry iced tea
If you don't want to wait until winter to enjoy your blackberry harvest, refresh yourself with this cooling brew for the last days of summer. This tea can just as easily be made with frozen blackberries, defrosted.
Ingredients:
3 cups blackberries
280g sugar
1 tablespoon fresh mint leaves, chopped
Pinch baking soda
4 cup boiling water
6 teaspoons loose black tea
2 cups cold water
Method:
Place the blackberries and sugar in a large container and use a wooden spoon to macerate. Stir in the mint leaves and baking soda and set aside.
Pour the boiling water over the tea leaves and infuse for three minutes, then strain over the blackberry mixture. Allow to stand for an hour at room temperature. Pour the mixture through a fine mesh strainer into a large jug to serve, removing the solids left behind. Stir in the cold water and chill off. Serve poured over plenty ice and garnished with some fresh blackberries and mint leaves.